If you're considering dental implants, you may be wondering what's involved in the dental implant restoration procedure. Here's a brief overview. 
What are dental implants?
Dental implants are one of the most popular tooth replacement options available today as they are strong, durable and long-lasting. Additionally, they can give you back your smile and your confidence. But what exactly are they, and how do they work? 
Made from titanium, a strong and biocompatible metal that fuses with your jawbone, a dental implant provides a sturdy foundation for a replacement tooth. They are custom-made to match your natural teeth and can last a lifetime if properly cared for. If you are considering getting a dental implant, be sure to talk to us to see if they are the right option for you. 
What is the process for the dental implant restoration procedure?
The dental implant procedure is a three-stage process that takes around four months to complete. However, it can take up to a year if you have other dental health issues that must be treated first (e.g. gum disease) or if your jawbone is not healthy enough and a bone graft procedure is needed. 
Initial Consultation and Examination
This consultation will allow the dentist to examine your mouth and teeth to determine if you are a good candidate for dental implants. They will ask about your medical history and what your goals are for the treatment. 
During the initial consultation and examination for a dental implant, the dentist will assess the health of your teeth and gums. They will also take X-rays and a 3D scan of your mouth to determine the best placement for the implant. 
Dental Implant Surgery
Dental implant surgery is a straightforward procedure that takes place under a local anaesthetic in your dentist's office. The titanium dental implant is inserted under the gum into the jawbone in a process that takes 1-2 hours per implant.
Once placed, dental implants begin to fuse with the jawbone in a process called osseointegration, which is one of the most critical parts of the dental implant restoration procedure. Within 3-4 months, the implant will be robust and stable enough to securely hold an artificial tooth.
Naturally, we take hygiene and safety seriously and use recognised protocols for sterilising our tools and equipment, as well as observing measures to prevent the spread of infection, such as using hand sanitiser. Our team wear protective gear and use hand sanitiser frequently because it is effective against a wide range of harmful pathogens. We recommend that our patients use hand sanitiser at home before touching their mouths and faces. 
Attaching the Replacement Tooth
The final part of the dental implant procedure is attaching the artificial tooth, which takes place at your dentist's surgery. This is a straightforward process carried out under a local anaesthetic and generally lasts up to an hour. 
Am I a Suitable Candidate for Dental Implants?
Although dental implants are suitable for many people, there are some circumstances that could mean they are more problematic. However, this doesn't always mean that you cannot have them placed, as all cases are considered on their own merits. But it does mean that additional care may have to be taken. 
Bone Loss
If you have suffered jawbone loss, the dental implant restoration procedure may be challenging. The good news is that a bone graft can augment the jawbone so that implants can be placed successfully! While the process may be slightly more complicated than for those who have not experienced jawbone loss, it is still possible to have successful implant placement. However, the overall process can take up to a year to complete. 
Chronic Medical Conditions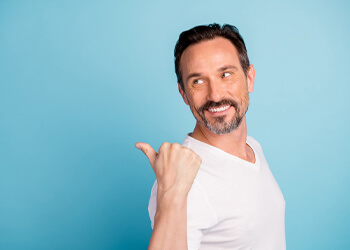 Some long-term health conditions can affect the success of dental implants. 
Diabetes can affect saliva production, which means that people with the disease are more likely to have gum disease. Furthermore, there is a higher risk of infection of the implants as diabetes can affect the healing process.

Osteoporosis causes weak bones that can be an issue with the osseointegration process.

Autoimmune disease can mean that the

body rejects the dental implant

.

Heart disease can have a negative impact on blood flow, which can, in turn, affect the healing process for dental implants.
Smoking
We're all aware that smoking can negatively affect oral and overall health, and this is especially true when it comes to dental implants. After surgery, it is crucial to quit smoking to allow the implants to heal properly—as cigarette toxins can impede the healing process.
Smoking is one of the leading causes of dental implant failure. When you smoke, you decrease the blood flow to your gums, which can lead to gum disease. Gum disease is a bacterial infection that breaks down the gum tissue and bone that are supporting the teeth. Peri-implantitis is a similar destructive inflammatory disease that can affect the hard and soft tissues surrounding dental implants, resulting in loose implants that ultimately fail. 
The Bottom Line
The dental implant restoration procedure is worth the effort as dental implants are a permanent, secure and excellent tooth replacement option. They look and feel like natural teeth, allowing you to speak, smile and eat with complete confidence. Although they may appear expensive, a dental implant can last a lifetime—which makes it a cost-effective option compared to dentures, which need replacing periodically.
If you'd like to find out more, book an appointment with No Gaps Dental or call us now on (02) 8007 6727.
Note: Any surgical or invasive procedure carries risks.
References
Healthline: What you need to know about a dental bone graft
https://www.healthline.com/health/dental-bone-graft#:~:text=A%20dental%20bone%20graft%20is,synthetic%20bone%20material%20is%20used.
Colgate: Bone resorption: why it happens and what to do next
https://www.colgate.com/en-us/oral-health/mouth-and-teeth-anatomy/bone-resorption-why-it-happens-and-what-to-do-next
Evidence-Based Dentistry: How do different levels of smoking affect dental implants?
https://www.nature.com/articles/s41432-021-0155-5