If you have a tooth that is severely decayed or damaged, you will need to see a dentist for a crown procedure to restore the form and function of your tooth. Here is an overview of when a dental crown procedure may be carried out and what's involved. 
What are dental crowns?
Dental crowns are one of the most common and versatile dental procedures. They are used to restore function and appearance and strengthen teeth. Crowns are placed over the teeth -like a cap – and cemented to cover the tooth's visible part. 
When would I need a dental crown?
The dental crown procedure is recommended to:
Cover and support a tooth with a large filling or root canal where not much of the tooth structure remains.

Strengthen a weak tooth – if it is severely decayed or cracked.

Restore a tooth that is badly worn down.

Hold a dental bridge in place to replace a missing tooth

Replace a missing tooth as part of a dental implant procedure.
Are onlays the same thing?
A traditional dental crown procedure requires the removal of a large part of the tooth so that the crown fits snugly. If you still have a large portion of solid tooth structure, onlays may be recommended by the dentist. This crown procedure is more conservative, where only the affected area is removed.
Onlays are used for teeth that require more than a filling but less than a crown. 
What to expect during the dental crown procedure
Generally, two visits are required for a traditional dental crown procedure. However, we offer CEREC same-day dental crowns using CAD/CAM (computer-aided design/computer-aided manufacture) technology. So, you can be measured and fitted with your new crown in one day. 
The first visit
During the first visit, the dentist will examine the tooth and may take x-rays. If a crown is deemed suitable for your personal needs and circumstances, the tooth is prepared by removing any decay or damaged tooth structure. This involved paring down the sides and top of the tooth. Once your tooth is prepared, impressions are taken to create a mould of your mouth and teeth. This mould is used to create a replica of your mouth and teeth, which is sent to an external laboratory where your dental crown is custom-made. Typically, it takes a couple of weeks for your crown to be fabricated, so the dentist will cover your tooth with a temporary crown in the meantime. 
The second visit
At your second visit, the temporary crown is removed, and the dentist places the permanent crown over your tooth to check the colour and fit. If you are both satisfied, the dentist cements the tooth securely in place to complete the dental crown procedure. 
Same-day dental crown procedure
These convenient dental crowns are made possible thanks to innovative technology, including 3D printing and CAD/CAM technology. This allows for the creation of a high-quality, customised dental crown in a single visit to the dentist.
Same-day CEREC dental crowns are milled from a solid block of ceramic material and offer a quick turnaround for patients. The digital dental crown procedure enables us to take 3D digital images of the mouth, which you can view on a computer screen before the crown is made. If satisfied, the images are sent to an onsite milling machine, where your new dental crown(s) are crafted while you wait. Once fabricated, we cement them over your prepared tooth in the same way as traditional crowns. 
How long do dental crowns last?
Dental crowns last between 5 and 15 years, depending on the material. Metal crowns are the most hard-wearing and are likely to last the longest. While porcelain is also hard-wearing, it does tend to chip. Porcelain-fused-to-metal (PFM) dental crowns have the strength of metal but are overlaid with porcelain for a better cosmetic appearance. However, the porcelain can chip and sometimes the grey metal colour can be seen through the porcelain.
Over time, several issues can occur with dental crowns: 
Sensitivity or discomfort
You may experience sensitivity immediately after your tooth has been crowned, and you may need to use toothpaste designed for sensitive teeth. If you notice discomfort or pain when biting down, you should return to the dentist to reposition the crown, which may be too high on the tooth. 
Loose crown or crown that falls off
The cement that holds the crown in place can sometimes wash away. This causes the crown to loosen and allows bacteria to enter and attack the tooth. If this happens, or your crown falls off, contact a dentist immediately to re-cement your crown.
Am I a suitable candidate for dental crowns?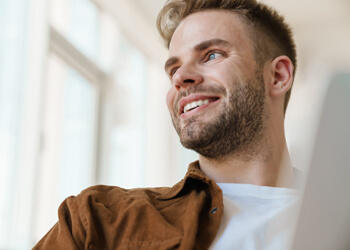 This question can only be answered by a dentist. The crown procedure is certainly a suitable option in many circumstances. However, it depends on the effectiveness of your oral hygiene routine and whether you have any bad habits that can damage your dental crowns.
Maintaining a good oral hygiene routine is crucial to remove harmful bacteria that can cause gum disease and tooth decay. Furthermore, you may not be suitable for the dental crown procedure if you have these habits, which can damage the crowns:
Opening packages and bottles with your teeth

Crunching ice

Biting your fingernails

Teeth grinding or jaw clenching (bruxism).
Want to know more about dental crowns?
Speak to our dentist about the crown procedure to see if you are a suitable candidate. Contact our team at No Gaps Dental on (02) 8007 6727 today and schedule an appointment.
Note: Any surgical or invasive procedure carries risks. Before proceeding, you should seek a second opinion from an appropriately qualified health practitioner. 
References
Colgate: What is CAD/CAM dentistry?
https://www.colgate.com/en-us/oral-health/dental-visits/cad-cam-dentistry-what-is-it
Mayo Clinic: Periodontitis
https://www.mayoclinic.org/diseases-conditions/periodontitis/symptoms-causes/syc-20354473#:~:text=Periodontitis%20(per%2De%2Do%2Ddon,is%20common%20but%20largely%20preventable.
WebMD: Preventing tooth decay
https://www.webmd.com/oral-health/guide/tooth-decay-prevention