If you need an emergency dentist, Sydney residents should know that they can count on the team at No Gaps Dental. At our dental clinics, we provide same-day emergency appointments because we know that a dental emergency can be both painful and distressing.
Our experienced and caring dental teams are well-equipped to treat problems such as severe toothache, a knocked-out tooth, dental infections, and any other dental emergency in Sydney which may occur. 
Above all, the aim of our emergency dentist in Sydney is to get you out of pain as quickly as possible and where necessary, carry out any emergency dental treatment. Without immediate treatment for tooth pain and pain from dental-related problems, matters can worsen and cause irreversible damage.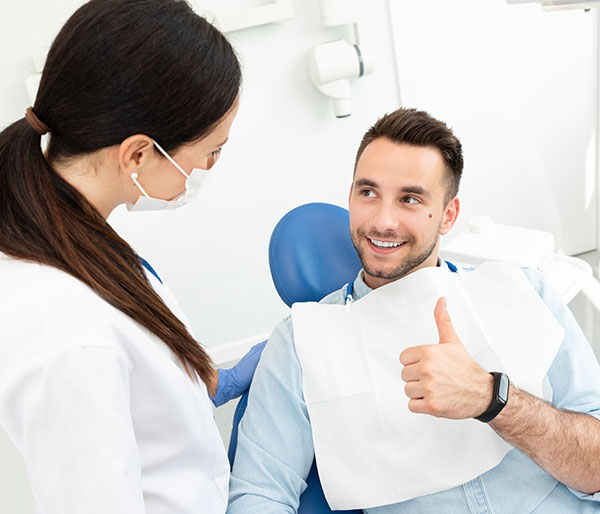 Emergency Dentist Sydney – What you can expect
At your emergency dental appointment in Sydney, our dentist will carry out an examination and may need to take some x-rays to help diagnose and assess the extent of any dental damage. Once we have a clearer idea of what your dental problem is, we can:
Explain your treatment options along with any associated risks, 

Provide you with a quote for the various options; and

Prescribe painkillers and medications to help you in the interim. 
We may not be able to complete your treatment in one appointment, particularly if you have a dental infection that requires a course of antibiotics – but our on-call emergency dentist in Sydney will never leave you in any discomfort.
200,000+
Satisfied Happy Patients
40
Highly Experienced Dentists
Do I need to visit an emergency dentist in Sydney, or can I wait?
When it comes to a dental emergency, Sydney residents should know that there are several situations that can be classed as such. Of course, if you are in severe discomfort or pain, it's a bit of a no-brainer, but, let's dive in and take a look at some of the more common dental situations and how a Sydney emergency dentist can help you
Severe toothache
A toothache should never be ignored. It's a sign that something is wrong even if your tooth appears healthy. A mild or niggly toothache can usually be managed with over-the-counter painkillers such as ibuprofen until you can get an appointment to see your regular Sydney dentist. However, if the painkillers don't work or the pain becomes unbearable, then it's time to get in touch with an emergency dentist in Sydney. In the meantime, while waiting to see your chosen emergency dentist, Sydney residents should avoid eating hard or crunchy foods that may exacerbate the problem.
So what causes tooth pain? 
Tooth pain is often caused by decay and/or infection which has occurred from a crack or chip to the tooth. If your tooth is decayed, our emergency dentist will take care to remove all the decay and fill the cavity. If the dental pulp has become infected and you need a root canal, it's likely to take 2 or 3 appointments to fix, depending on its complexity. However, be assured that our dentist will get you out of pain during your first appointment.
A knocked-out tooth
A tooth that has been knocked out is, without doubt, a dental emergency. Time is of the essence so it's important to pay a visit to your emergency dentist immediately. If you have the tooth or teeth fragments, then take them with you. However, you will need to handle them with care because you could easily damage the tooth further. keep then clean by wrapping them up in damp tissue. If you experience bleeding, try to control it with a sterile gauze or cloth. For pain or swelling, a cold compress will help, at least until you are able to seek treatment.
Facial swelling
If you have facial swelling around your mouth, and especially in your cheeks, it's highly likely that you have an infection. It's important to visit a dentist in Sydney NSW for emergency treatment since an infection can become serious and potentially life-threatening very quickly. 
One of the likeliest causes of facial swelling is a previously infected tooth which was left untreated and has now formed an abscess. Infection, when left untreated, can enter the soft tissues surrounding the affected tooth and progress. Besides the visible swelling, without getting treatment at an emergency dental clinic, your breathing could become obstructed and this could lead to hospitalisation.
A damaged tooth
While a cracked or chipped tooth does not necessitate a visit to a 24-hour emergency dentist, Sydney residents should visit their dentist as soon as they can, however small the problem. Putting it off could damage your oral health. Meanwhile avoid crunchy foods which could damage the tooth further and if you're experiencing temperature sensitivity, steer clear of hot and cold foods and beverages.
Something stuck between the teeth
Sometimes when eating, food can become stuck between your teeth. Try using dental floss to gently release it. If you're out and about, then try rinsing your mouth with a glass of cold water as this may help dislodge the food particle and wash it away. Do not use a sharp object like a needle as this could damage your gums. If you are unable to remove the object, then you may need to visit an emergency dentist. Leaving the situation as it is, isn't an option and will only make your gums sore and painful.
How to prevent a dental emergency
There are a few simple precautions you can take to help prevent dental injuries and a visit to an emergency dentist. When playing sports be sure to wear a custom-made mouthguard that has been provided and fitted by your Sydney dentist. 
Attending regular dental check-ups also enables our dentists to detect any early problems before they escalate and turn into dental emergencies.
Do you need an out-of-hours emergency dentist in Sydney, NSW?
If you're suffering from excessive bleeding from your oral cavity, your teeth have been knocked out or fractured, you suspect an infection or you are suffering from severe swelling and suspect an abscess, these are common situations requiring emergency dentistry. At No Gaps Dental, we know everything there is to know about emergency dentistry, from treating damaged restorations to exposed nerves or avulsed teeth.
If you're experiencing dental issues requiring emergency dentistry, book an emergency dentistry consultation to get ahead of the issue. Once you have spoken to one of our dentists, rest assured there are steps you can take to provide temporary relief from any pain or discomfort you may be experiencing. Whether you're suffering from a chipped, cracked or broken tooth, knocked out tooth, toothache, abscess, lost crown, or gum or facial swelling, you can refer to our at-home treatments for pain relief.
If you need emergency dentistry, then get in touch with the experienced dentists at No Gaps Dental. We have 15 clinics dotted around the Sydney CBD and metro area and over 35 experienced dentists providing high-quality emergency dentistry and dental services at affordable prices. Call us today at (02) 8069 9750.