If you've ever wondered where your crowns and inlays/onlays originated from, then you might be interested in the Cerec machine. It's one of the most versatile pieces of equipment in the dental practice.
The term Cerec stands for 'Chairside Economical Restoration of Esthetic Ceramics' and while it may seem like a bit of a mouthful, once you understand what Cerec technology is, it will all make perfect sense.  However, to get a clearer picture of how a Cerec machine can benefit you, we first need to find out how it functions.
So without further ado, let's dive in and do just that…
What is a Cerec and how does it work?
Cerec machines utilise the latest CAD/CAM technology to produce perfect, lifelike restorations. They are in essence a camera, computer, and manufacturer of precision restorations – all rolled into one.
Cerec technology uses the latest 3D imaging software to create an accurate and detailed representation of your teeth. This is the key to getting the perfect, flawless restoration.
The first step is to prepare the restoration site. This may include reshaping teeth to enable a perfect fit for bridges and crowns or, in the case of implants, ensuring that the abutment is ready to mount the new crown.
Next, the mouth is x-rayed and photographed using a high-resolution camera. Information is then collated – and at the click of a mouse – is uploaded into the machine where it turns it into an accurate 3D representation of your mouth.
Computer-aided design (CAD) technology then takes the representation and refines it to highlight any specific areas that need restoring. This information is then passed virtually to the milling unit located on-site where the exact-match crown or tooth inlay/onlay is sculptured. The machine does this using one complete ceramic block.
The whole process – from taking the initial scanning through to final milling – takes anywhere between 10-20 minutes, so in super-quick time, a patient will have natural and flawless ceramic dental restorations.
Once the newly-milled crown is ready, all that's left to do is to place it into position. It really is that simple!
And the best bit about the Cerec?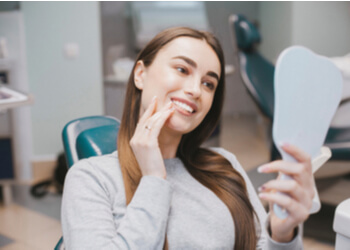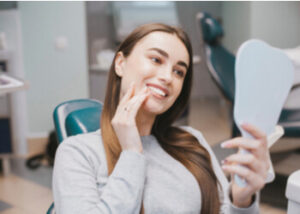 Everything from start to finish is carried out during one, simple, convenient appointment and shouldn't take any longer than 1-1.5 hours. All that is left to do for the No Gaps team is to explain how best to care for your new restoration, so you get to reap the benefits of a great-looking smile – for many years to come! Speaking of benefits, while the main perk is one of patient convenience, there are a whole range of other advantages that a dental practice with a Cerec has, over conventional methods. Let's take a closer look.
With a Cerec, no temporary crown is needed
Have you ever been to the dentist only to be told that your permanent crown is likely to take several weeks to make? This is because crowns, inlays and onlays are generally made off-site in a centralised dental lab. Naturally, a patient won't be left with a broken or gapped tooth, so the normal procedure is to fit a temporary crown.
The problem with temporary crowns is that they are designed to be just that – temporary! Therefore they aren't as strong and not as well-bonded to the tooth. As a result, a patient may need to avoid certain foods like crisp apples to ensure the temporary restoration isn't damaged and remains in position. Besides that, they aren't always as lifelike as a permanent crown would be, so they tend to stand out from the rest of your natural teeth.
On the contrary, because Cerec dental restorations are fabricated using a Cerec in just one dental visit, there is no need for a temporary crown to be fitted at all. So a patient can go from having a problem tooth or gap to a perfectly restored smile – in just a few hours!
Cerec technology eradicates human error to a degree
When a dentist uses a state-of-the-art machine, it removes many of the human processes, many of which can go wrong. These include manual impression taking (more about this later), mould casting, and manufacture – all of which rely heavily on the utmost accuracy of the dentist or dental technician, to ensure the best possible outcome for the patient.
However, with Cerec technology, any impression taking, mould making, and manufacture is carried out using high-tech digital equipment. So much of the 'human' element is removed. Ultimately, accuracy levels are higher and the patient leaves the dental clinic with a great-looking smile.
Of course, a skilled dentist is still required to ensure that the perfect shade is matched and the restoration is fitting perfectly, but once these elements are in place, recreating the perfect crown, inlay, or onlay – time after time – is a walk in the park.
Cerec dental restorations eliminate waste 
The accuracy of CAD technology is usually proven in the perfect representation of the patient's tooth or teeth. Because the permanent model recreated by the machine is so accurate, there is very little wastage. While this is good news for the practice owner, for the patient, they can be assured that the size, shape and texture/appearance will always be virtually identical to their natural teeth.
So whether you have a missing tooth or a tooth that needs protecting, your new Cerec crown should fit the mouth perfectly and time won't need to be spent making hasty adjustments. It's quick, convenient – and above all – hassle-free!
A Cerec does away with messy impression taking
If you ask any dentist what their least favourite procedure in dentistry is, they would probably say traditional impression taking.
The reason for this is that the process utilises dental putty which expands slightly when placed in the mouth. This can become pretty uncomfortable for the patient and extremely problematic for those with a low gag reflex. To make matters worse – and to ensure the best accuracy – the patient needs to remain perfectly still.
That in itself is a tough ask and is the reason why so many impressions need to be retaken, both at further cost to the dentist and great inconvenience to the patient.
With a Cerec machine, on the other hand, impressions are done digitally using high tech camera equipment. So no more messy impression taking. Instead just easy, simple, and convenient technology.
So now you know what a Cerec machine can do and how it benefits both patient and dentist, the next question you might want to ask is "does your dentist use a Cerec machine?" If the answer is no, then you might want to consider a dentist who does.
As a multi-location dental group seeing over 83,000 patients every year, No Gaps Dental patients can experience quality dentistry at very competitive prices. Many of our 15 dental clinics have a Cerec machine for same-day crowns in addition to state-of-the-art treatment rooms and modern clinics.
To find out more about what locations offer same-day restorations using Cerec technology, or to book an appointment,  call us at (02) 8007 6727, or visit our website today. On behalf of the No Gaps dental team, we look forward to helping you to maintain, restore or rejuvenate your smile!