When we talk about the cost of dental implants here in Australia, then according to the 2018 National Dental Fee Survey, you can expect to pay somewhere between $3000 and $6500 per tooth. While that seems like a lot of money – and there's no denying that it is – it's important to understand what patients are getting for their money. In other words, how much are dental implants really worth?
Let's take a closer look…
The missing tooth dilemma
When we have a missing tooth, we can do one of two things…we can choose to ignore it or alternatively, we can choose to replace it.
Of course, the easy – and least expensive option – would be to ignore the problem especially if the tooth isn't visible when you smile.
However, the issue lies in the fact that when a tooth is lost, it triggers off a whole host of problems that can end up costing you a small fortune to fix in later years – more about this later…
The other option is to undergo a missing tooth replacement. This can be in the form of a conventional bridge, a partial denture or a dental implant. While all three are tried and tested options, dental implants are by far the most expensive choice.
So while you might automatically view your options from a cost-led perspective, it really is worth looking at the bigger picture before you dismiss implants altogether.
Let me explain…
The advantages of dental implants over their counterparts are numerous. Make an appointment for a consultation at your local dental clinic to fully understand the pros of implants.
The average lifespan of a conventional bridge or denture, for example, is somewhere between 7 and 10 years. This means that you could be replacing bridges or implants several times over your lifetime. So add this up and costs can easily spiral.
On the contrary, when you opt for an implant-based restoration, then provided it's cared for correctly, your dental implant may last indefinitely. So in effect, you're paying for the cost of dental implants, just once and once only!
Then there's the little matter of bone resorption…
Do you remember when I mentioned that ignoring a missing tooth can trigger a whole host of dental problems? Well, one of those problems is bone resorption.
In essence, when a tooth or teeth are lost, the surrounding bone tissue that supported the tooth roots are no longer needed.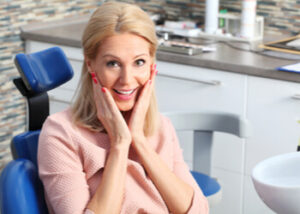 As such, it gets reabsorbed back into the body.
In fact, some reports suggest that in multiple tooth loss cases, around 25% of the entire jaw bone is lost in the first year alone; and this bone loss continues.
Other problems include shifting teeth as they gravitate towards the gap and bite problems leading to a lack of stimulus for other teeth.
All told, it could result in a pretty hefty dental bill to put right everything that a single missing tooth has caused.
Therefore the idea of tooth restoration is that it:
Closes the gap so adjacent teeth don't shift towards it,
Restores proper and effective bite function and
Maintains a full smile enabling you to speak normally
There is however one problem that conventional bridges and dentures can't fix and that's the small matter of bone loss…
Because they are 'false teeth' in the real sense of the word, they won't stop bone loss.
In other words, despite undergoing a missing tooth replacement, the jaw will continue to shrink. Facial changes will become noticeable, the chin becomes more pointed and deep wrinkles will start to appear in the face giving you an altogether 'aged' appearance.
Dental Implants, on the other hand, can!
Because the titanium implant is anchored into the jaw, it acts as a new tooth root. As such any remaining bone tissue is re-stimulated and bone shrinkage stops. So not only can a dental implant restore both form and function but it also has the ability to halt the signs of ageing caused by bone loss.
In essence, rather than take an initial view of the cost of dental implants and dismiss them out of hand, it's perhaps a better idea to look at the overall value that they can bring, that other forms of tooth replacement cannot.

We're talking about…
The ability to restore full functionality allowing you to eat what you want
The ability to live a hassle-free life – your dental implant is treated just like your other teeth and
The ability to look and feel great for many years to come.
That, in reality, is the true cost of dental implants!  Of course, we could go on 'ad infinitum' extolling the virtues of dental implants, but what about that initial cost – how do you overcome that?
Getting around dental implant costs in Australia
Dental implants are expensive for a number of reasons – way too many to mention here – so let's just accept that if you are considering an implant-based restoration here in Australia, then the procedure isn't going to be cheap. You can book a consultation with a dentist to find out more about the exact costs.
That said, there are ways that you make dental implants more affordable…
Firstly payment plans…
As dentists, we realise that the initial costs of dental implant restorations are a stretch for many people, and this is why many dental practices offer payment plans. For patients this means that they can spread the cost over a number of weeks or months, thus easing the financial burden.
Secondly, medical insurance
Previously, Australian medical insurance simply didn't cover the cost of dental implants, Now, however, some companies will cover part or all of the process. It's worth having a look round to see which companies do or don't cover you for implant-based restorations and check out the small print.
Finally promotions
As dental implants become more popular, there is increasing competition between dentists. As such, many dental clinics will offer promotions on their services. So it's always worth asking the dentists if they have any current offers on dental implants. They can only say no after all!
Here at No Gaps Dental, we pride ourselves on some of the most competitive treatments in Sydney and the surrounding areas. So if you are interested in implant-based restorations but feel hampered by the cost of dental implants, then give us a call at (02) 8007 6727 for a consultation at your local dental clinic.
Note: Any surgical or invasive procedure carries risks.