It's certainly no secret that dental implants are regarded as the gold standard for teeth replacement. This is because they can achieve what no other tooth replacement method can – replacing an entire tooth from the root to the crown.
By doing this, it provides patients with a wealth of benefits that make it an attractive proposition, provided you don't mind the thought of a short spell of surgery.
So what are dental implants exactly?
An implant is a cylinder-shaped post made from high-grade durable titanium, which is surgically inserted into the jawbone to replace a missing or damaged tooth. Because titanium is biocompatible with the human body, it isn't rejected, and over the period of a few months, it fuses with the surrounding bone, becoming a permanent part of the body.
Because the implant is placed into the jawbone, it takes on the role of the missing tooth root. This means the implant won't slip, make any noise, or cause bone damage in the way that fixed bridgework or a denture might.
Who is suited to dental implants? 
Generally speaking, dental implants could be a good option for you, if you
Are missing one or more teeth
Have a jawbone that's fully grown
Have sufficient bone to support the implants or can have a bone graft
Don't have any health issues that affect bone healing
Have good oral health
Struggle to wear dentures
Are prepared to commit to several months in the process
Don't smoke tobacco products
Have a speech impediment and want to speak more clearly
Are there any risks?
Like any surgery, implant surgery poses some health risks. However, problems are rare and when they do occur, they are invariably minor and can be easily treated. The risks include:
Infection at the site of the implant
Nerve damage which could cause numbness, tingling, or pain in your teeth, gums, chin or lips
Injury to surrounding structures such as blood vessels and other teeth
Sinus problems should an implant inadvertently protrude into the sinus cavity
If you're considering dental implants, your dentist or surgeon will discuss these risks and address your concerns ahead of the procedure.
Dental Implants – The Options
Most people are aware that a dental implant can be used to replace a single tooth, but did you know that they can be used in several other ways too?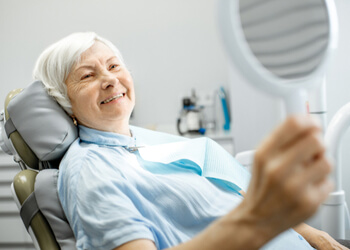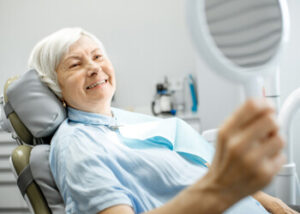 It almost goes without saying that it would involve too much surgery and a ridiculously high dental implant cost to restore a smile on a 'one tooth one implant' basis. Instead, large gaps can be closed using a dental bridge that is supported at either end by dental implants.
Alternatively, edentulous patients can also benefit from full sets of fixed dentures supported by 4 to 6 strategically placed implants.
Patients who prefer to wear conventional dentures but struggle with slippage can also opt to have just a few dental implants placed which clip on to their existing dentures holding them firmly in place.
How dental implants are done
You will need to attend an implant consultation to assess your eligibility for dental implants. This involves a thorough evaluation, a number of x-rays, and possibly a CBCT scan. You'll also be asked about your medical history and will need to tell your dentist if you're currently taking any medications.
Much planning goes on in the background between key members of the implant team so modern surgery is quicker, more precise, and safer for patients.
Dental implant surgery usually takes place in the dentist's chair and you'll be given a local anaesthetic to numb your mouth so that you don't feel any pain.
Should you feel particularly anxious about the thought of surgery why not consider enquiring about dental sedation? This will place you in a care-free or euphoric state although able to comply with any requests from your dentist. Once the surgery is complete, most people who undergo conscious sedation, have little or no recollection of anything that went on
With conventional dental implants, the procedure takes place in several stages as detailed below:
An incision is made in the gums and flaps pulled back to expose the bone
A hole is drilled down into the bone
The implant is inserted, and the gums are sutured together
Then some months later, once the implant has fused with the bone,
The flaps are opened again
The implant is exposed
An abutment is attached
Once the gum tissues have healed, it's time to have your dental crown attached to the abutment and securely cemented into place and voila …..  you can smile again with confidence.
So now you know how dental implants are done, we're sure you want to know more about the dental implant cost.
Unfortunately, giving you an exact dental implant cost isn't as straightforward as you might have hoped. You see there are a number of factors which can and do dictate the price you pay. Factors such as…
Whether any other treatments are necessary prior to the dental implant – Some patients may also require other treatments prior to undergoing dental implants such as tooth extraction, bone graft or sinus lift. This can all add to the initial dental implant cost.
The number of implants being placed – As discussed earlier, the number of implants placed will affect the cost; as will undergoing specialised procedures such as All-On-4 or digital implants using computer-guided surgery.
The location of your dentist – If your dentist resides in a city like Sydney or Melbourne, it stands to reason that they will incur higher overheads than a dentist who is located out of town. For this reason, you can expect to pay more for a dentist based in the CBD than you would for someone based in the underlying suburbs. There are also patients that are considering to go abroad to get a implant treatment because of the cost but there are potential risks that might you might face.
Whether your surgery is being performed by a specialist oral surgeon – In some instances, your case may be referred to a specialist oral surgeon. They have undergone years of training and are more qualified in this role than a general dentist. Understandably, they are likely to charge more, and this will add to the dental implant cost.
If you're considering dental implants and would like to know if they're a suitable option for you, then why not request an appointment at a No Gaps Dental Clinic that suits you. Our highly experienced dental teams are dedicated to providing quality treatment at affordable prices and are open 6 days a week for your convenience.
Note: Any surgical or invasive procedure carries risks.