If you are considering replacing a missing tooth or teeth, then it's good to know that there are several options available. Over the last couple of decades, there is one method that has stood out from the rest and that's dental implants. Sydney dentists at our No Gaps dental clinics have been offering implant-based rehabilitation for many years, yet, there are still many people who aren't entirely sure what dental implants are and how they work.
With this in mind, we're here to set the record straight. We've put together everything you should know about dental implants in Sydney. So let's dive straight in…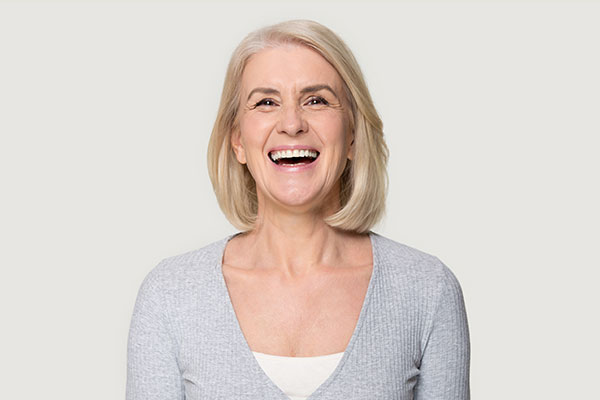 Firstly, what are dental implants?
A dental implant is the closest thing that you can get to a natural-looking, fully-functioning tooth replacement. Dental implants otherwise known as tooth implants, allow you to live your life the way you want to. Confidently smiling, chewing, eating, laughing and talking, without the need to be concerned about your teeth.
Think of a dental implant as an artificial tooth root – this is in effect what it is. Consisting of a titanium screw-like rod, it is inserted or 'implanted' directly into the jawbone during a surgical procedure. Over time -and because titanium possesses a unique ability to bond with bone tissue- the dental implant will form a sturdy base to support one or more artificial restorations or crowns.
read more
Dental implants actually come in 3 parts. They consist of …
The implant itself – The titanium rod that anchors into the jawbone
The abutment – A small connecting structure that holds the crown to the implant post and,
The restoration or replacement tooth – Usually in the form of a custom-made crown.
Typically, once the dental implant has been inserted into position, the abutment is fitted some months later. Finally, some weeks after that, the restoration or crown is placed. Collectively these components make up a durable tooth replacement that looks and feels just like a real tooth.
Because dentists have been successfully fitting implants for over 30 years, when the procedure is carried out by a skilled dental implant dentist, implant surgery here in Sydney is one of the safest and most reliable procedures in dentistry.
So now you know what a dental implant is…
Implant for Crown and Bridge
200,000+
Satisfied Happy Patients
40
Highly Experienced Dentists
How can getting dental implants in Sydney help you?
Most people assume that a dental implant is used to replace a missing tooth on a one-for-one basis only, but this isn't always the case. Dental implants, or rather, implant-based restorations, are in fact multifunctional and are able to replace:
● A single tooth
● Several consecutive teeth or
● An entire arch of teeth
Utilising a series of fixed prostheses, one or more dental implants can be positioned to act as a support for an implant-supported bridge, a removable overdenture, or a permanently fixed appliance. For most, being fitted with dental implants in Sydney means that they have a permanent hassle-free smile that they can be proud of.
As such, dental implants can be a smart choice for adults of all ages. Whether you are born without a tooth or teeth (a condition known as hypodontia) or have had teeth removed due to injury, decay or infection, dental implants offer the ideal, permanent solution. Moreover, they have four main advantages over their conventional denture and bridge counterparts
Firstly, you'll look and feel great
Modern dental implants are designed to look, feel, fit and function just like your healthy natural teeth. You don't need to remove them for cleaning and no special cleaning routine is required. Instead, simply brush and floss, just like you would your normal teeth. As such, you don't even have to think about them. Furthermore, they help to retain the natural shape of the face.
Dental implants are made to last
Provided they are properly cared for, dental implants can last for many years. Other more conventional options like dentures and bridges, need to be replaced every 5-10 years. This requires a significant investment in terms of both costs and dental visits.
Conversely, when a patient undergoes a dental implant rehabilitation, they should remain comfortably in the mouth for decades. In fact, the very first dental implants to be placed into a human patient occurred in 1965. Those same restorations were still functioning in 2006, some 40 years later!
A dental implant can halt the bone resorption process
There are many downsides to a missing tooth or teeth, but perhaps one of the biggest problems is jawbone deterioration. When a tooth is missing, the bone tissue that once supported it is no longer needed. As such, it gets reabsorbed back into the body in a process known as resorption.
This process continues long after the tooth is lost, and over a relatively short period of time, it will alter the shape of the jaw, causing you to appear older.
When a dental implant is anchored into the jaw, it tricks the remaining bone tissue into thinking that a tooth root is present. As such, the bone tissue is re-stimulated and therefore won't reabsorb. Unlike conventional denture and bridges, a dental implant is the only restoration that can achieve this biological feat.
You can live life with confidence
Once in place, dental implants are permanently secure. So unlike dentures, they aren't prone to embarrassing denture slippage when you talk or eat. In addition, their strength gives you the ability to bite and chew with confidence while your speech will appear more natural. Ultimately, dental implants can restore confidence allowing you to live your life without hindrance, as you see fit.
So, we've talked about what a dental implant is and how they can help. But there is something that we haven't addressed – the 'elephant in the room' if you like – and that's the dental implants cost! Sydney CBD residents considering undergoing dental implant surgery might already be aware of the high prices. So this begs the question…
Why is the cost for dental implants so expensive?
From a price perspective, the initial cost of dental implant restorations may seem excessive when compared to other forms of missing tooth replacement like dentures and bridges. This is because you are paying for technology, expertise and a whole host of other benefits that other forms of missing tooth replacements simply don't have.
In fact, when you start to look at the bigger picture – that is, the full long-term financial and emotional costs of dental implants in Sydney, it becomes easy to recognise that dental implants really do represent good value for money. Factors like total costs, convenience and even health all play their part. Let's take a closer look…
Initial costs vs total costs
When you undergo a dental implant procedure, the price you pay initially, is normally the price you pay, period!
Alternatively, when you opt for dentures, the initial price doesn't include the cost of replacement, or ongoing maintenance costs such as adhesives, fixatives and sterilising tablets.
The convenience factor
Unlike dental implants which sit permanently in the mouth, dentures need to be removed daily for soaking and brushing. This isn't always convenient and time needs to be factored in to do so.
The health associations
We already know that a dental implant is a permanent and durable structure in the mouth. As such, it's well documented that teeth implants are considered as strong, if not stronger than your normal teeth, thus allowing you to eat what you want.
Conversely, dentures are 4-5 times weaker. This can mean that some denture wearers may avoid certain crunchy or chewy foods which may otherwise be healthy or good for us. Naturally, adopting a limited diet will have health implications.
As you can see, if you look at it from a financial perspective, dental implants are at least cost-comparative with other forms of tooth replacement options in the long term.
But, factor in other reasons such as improved quality of life and better overall health and you can begin to see why dental implants rank as the higher-value investment.
So how much do dental implants in Sydney cost?
Here at No Gaps Dental, we understand that no two patients or their dental implant treatments are alike and this is why costs can vary from patient to patient.
So while we can't give you a definitive implant price without a full consultation, we are a multi-location dental group, which enables us to keep prices low.
As a result, dental implant patients who visit any one of our 15 locations dotted in and around the Sydney Metro area can rest assured that they are getting great dental implants treatment at a great price.
Dental implants – Sydney payment plans
Many dentists throughout the Sydney area including the No Gaps Dental Group offer payment plans for patients looking to undergo dental implants in Sydney. These allow patients to spread the cost of payment over a number of weeks or months, with little or no deposit and little or no interest.
For this reason, if you are considering dental implants as a tooth replacement option, it's worth talking to your local dentist to find out if they do have such a plan in place.
And finally,
Shop around!
When you shop around, you'll be surprised at the variations in the price of tooth implants in Sydney alone. Take advantage of no-obligation consultations and pick your chosen dentist based on a mixture of experience and value for money!
So, taking all that has been said about dental implants so far into consideration, you might be strongly considering taking the plunge, but before you do,
what can you expect?
Let's take a closer look at the procedure itself…
The initial consultation
During an initial consultation, your implant dentist will give your mouth a thorough examination. This includes taking either X rays or 3D images to determine the quality and quantity of bone. Based on these findings, they will discuss the various dental implants options with you and give you a customised treatment plan.
Dental Implants placement
During your next appointment, the implant or implants are placed. This is the part that most people worry about but most people find that they experience far less discomfort (if any) than they imagine.
Local anaesthesia or I/V sedation can also be used to make the experience more comfortable and for most, the dental implants procedure is over before they know it.
Post-implant surgery discomfort is often similar to that of any other dental surgery procedure in that it may include minor swelling, bruising and discomfort. Typically, swelling and bruising are managed using ice packs, while any pain felt is normally brought under control quickly using standard over-the-counter medications.
Bone fusion
After implant surgery, time is needed for the bone to fuse with the titanium implant in a process known as osseointegration. This is what creates the strong platform and can take anywhere between 3-6 months depending upon the individual. For the first few weeks after receiving dental implants, patients can expect to be on a soft food diet to ensure that the tooth implants heal properly. In some cases, your dentist may also be able to install temporary teeth.
Placing the abutment
After your dental implants have fused with your bone, the next stage is to place the abutment. This is a small ball-shaped connector placed onto the implant just above the gum line. In some cases, this can be placed at the same time as your titanium implant.
Attaching your permanent teeth
After the gums are fully healed, impressions are made of the mouth to custom make your permanent restorations. These may be either a single crown, a bridge or an entire denture depending upon your needs. Once completed, patients are called back to the clinic for final fitting. Once fitted and once bite and aesthetics are checked, you're good to go.
Periodic check-ups
Finally, some three to nine months after treatment started, you can expect to visit your dentist periodically for follow-up checks.
Book your consultation for dental implants with No Gaps Dental
If you have missing teeth, dental implants will certainly help you regain your confidence with every smile and promote jawbone growth, make cleaning your teeth easier, reduce tooth decay and help you retain your facial structure.
At No Gaps Dental, we typically have six major dental implant stages — the initial consultation, the first dental implant procedure, osseointegration, the abutment surgery and the designing and fitting of the crown. How long dental implants take varies depending on your jawbone density and oral health, but at minimum, it takes three months and can require up to nine months.
Should you need no extra surgeries, you can expect an average of four weeks' dental implant recovery time. Swelling is a natural part of recovery and should not be cause for concern — you can treat the swelling with over-the-counter painkillers, ice packs and rest. It'll all be worth it with your dental implants made to last a lifetime. Your dental crown, however, will require replacement every 5 to 15 years.
Hopefully, this page tells you everything you need to know about dental implants in Sydney and how they can help you, but don't forget — you can always pop into any of our 15 handy locations to find out more or call us on (02) 8069 9750 to book a consultation today.
Note: Any surgical or invasive procedure carries risks. Before proceeding, you should seek a second opinion from an appropriately qualified health practitioner.