If your tooth has severe decay or extensive damage, you're probably wondering about treatment options. While there are several choices for treating damaged teeth, one of the most popular is dental crowns, sometimes called teeth crowns. 
So, what are teeth crowns?
This handy guide will explain what teeth crowns are, when you need them, how the dental crown procedure works, and our modern solution using dental crowns with CEREC technology. So, let's dive in and take a look.
A tooth crown, also called a dental crown, is a hollow "cap" placed over the visible portion of a tooth above the gum line. Typically crowns are used to restore aesthetics and functionality to damaged teeth and prevent further damage. 
There are several types of dental crowns, including metal, gold, porcelain, ceramic and zirconia. Our dentist will explain these options before commencing the dental crown procedure to help you decide which best meets your dental needs and budget.
So now you know what teeth crowns are, when are they necessary?
When are teeth crowns used?
Protection of a weak tooth
A tooth can be weakened by dental decay or fracture. While sometimes, a filling would be sufficient to restore the tooth, significant damage requires structural reinforcement to restore functionality and aesthetics. 
Replacement of large, broken fillings
Dental crowns offer a restorative solution if previous amalgam or composite restorations have severely worn down and very little tooth structure remains.

Cosmetic modification
While misshapen or deeply stained teeth can be treated with veneers or teeth whitening, dental crowns are a better option for complete cosmetic tooth restoration. 
Coverage after root canal treatment
Following root canal therapy, a tooth is often left in a weakened state, in which case dental crowns are used to rebuild the strength of the tooth.
Final restoration of dental implants
Lastly, the titanium screw of a dental implant is covered by a crown. This acts as the replacement tooth, filling the space caused by tooth loss to restore the smile.
Hopefully, the above information has explained what teeth crowns are and when they're used, so let's look at the procedure. 
Dental Crown Procedure – What to Expect
A traditional dental crown is carried out in four steps:
The procedure starts with X-rays so the dentist can assess the amount of decay and damage that should be removed and reshaped. At this point, the dentist will help you decide the type of crown needed.
Then, the tooth is prepared by the dentist. All the decayed parts are removed, and the top and sides of the tooth are filed down to accommodate the crown.
Taking impressions and crown processing
Having prepared the tooth, an impression is taken and sent to the dental lab to make a custom crown. This may take a few weeks. Meanwhile, the dentist will place a temporary crown over the prepared tooth to prevent infection or damage.
Cementing the crown in place
Lastly, you will be asked to return for another visit so the permanent crown can be attached to the tooth to complete the treatment. The dentist will check for necessary modifications before cementing it in place.
CEREC Same-Day Dental Crown Procedure
Traditional dental crowns are completed in multi-day procedures. But with CEREC dental crowns, the tooth is prepared and crowned in a single visit. This advanced dental crown procedure uses computerised technology and an in-house milling machine to custom-design and mill the crown, completing the treatment in around two hours.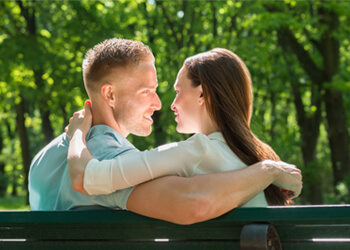 After preparing the tooth, the process begins with a digital impression using a handheld scanner. This eliminates the need for messy, gooey impression materials that can be very uncomfortable. The images are fed into a computer program enabling the dentist to design the crown.
Then, from the crown design, an on-site 3D milling machine sculpts the crown from a block of porcelain colour-matched to the surrounding teeth. This will be placed over the prepared tooth and adjusted to fit before cementing it into position and polishing it to resemble a natural tooth.
The result is a beautifully natural and customised crown made in just one day.
Advantages of CEREC Chairside Dental Crowns
This modern dental crown procedure has many benefits over the traditional dental crown treatment. First, it eliminates inaccuracies and mistakes. It is fully digitised from impression making to milling, so precision is guaranteed every step of the way.
The impressive fit, premium make, and high-quality materials reflect the strength and aesthetic properties of the crown. Despite relatively conservative tooth preparation, CEREC crowns are functionally stable in the mouth and provide durability that can be relied on for many years. They are also resistant to chip and abrasion while remaining beautifully polished, making them virtually indistinguishable from the neighbouring teeth.
And perhaps the most popular advantage of the CEREC crown is that it is a cost-effective dental crown procedure that can be completed in just one appointment, leaving you to get on with the rest of your day.
Are you considering dental crowns?
Now that you know what teeth crowns are, the next step is to determine whether they are the best treatment to save and preserve your tooth. For this, don't hesitate to contact us at No Gaps Dental. We have a friendly and attentive team who provide numerous restorative dentistry options to improve your smile.
Contact us at (02) 8007 6727 to find out more.
References
Cleveland Clinic – Dental Crowns
https://my.clevelandclinic.org/health/treatments/10923-dental-crowns
Cleveland Clinic – Tooth Discoloration
https://my.clevelandclinic.org/health/diseases/10958-tooth-discoloration#:~:text=Disease%3A%20Diseases%20that%20prevent%20normal,can%20cause%20teeth%20to%20discolor.
PubMed – The Incidence of Root Canal Therapy after Full-Coverage Restorations: A 10-Year Retrospective Study
https://pubmed.ncbi.nlm.nih.gov/32238275/
Oral & Implantology – CEREC CAD/CAM CHAIRSIDE SYSTEM
https://www.ncbi.nlm.nih.gov/pmc/articles/PMC4402686/pdf/1_cerec.pdf
Healthline – What You Need to Know About CEREC Dental Crowns
https://www.healthline.com/health/what-you-need-to-know-about-cerec-dental-crowns