A dental crown is a dental restoration placed over a tooth or dental implant—hence the name "cap". Crowns are often used to restore a tooth's function and appearance. They are also used to attach bridges and as part of a dental implant procedure. There are several different tooth crown types, and what is best for you will depend on the tooth being treated, your bite, and the cosmetic results you hope to achieve.
How Do I Know I Need a Dental Crown?
It's not always easy to tell when you need a crown. However, there are a few things you can look out for that may indicate it's time to see your dentist. If you have a tooth that is severely decayed, cracked, or broken, a dental crown may be necessary to restore it. Dental crowns can also add strength to teeth following root canals. If you have a tooth that is misshapen or discoloured, a dental crown may be recommended to improve its appearance. If you are experiencing pain or sensitivity in a tooth, you must see your dentist to determine if a dental crown is needed.
The Differences Between the Tooth Crown Types
Most dental crowns are made from tooth-coloured ceramic materials or metal. The type of dental crown you receive depends on many factors, including the location of the tooth, the kind of chewing load it will bear, and your preference.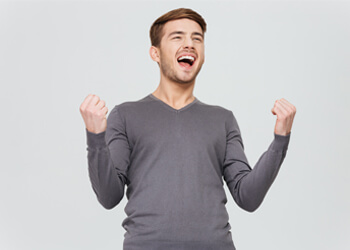 Although ceramic dental crowns are often more aesthetically pleasing, metal crowns are typically more durable, lasting 15-20 years. While highly resistant to wear and tear, porcelain crowns can damage opposing teeth, whereas metal crowns are gentler. Porcelain crowns tend to be less robust than metal and can be susceptible to damage, particularly if you have bruxism (grind your teeth at night), but with good care, they can last for 10-15 years.
The dentist will talk you through the various options available, considering your personal preferences, budget and goals.
Tooth Crown Types
Porcelain Dental Crowns
Porcelain is a popular choice for many reasons. For one, porcelain looks very similar to natural tooth enamel. It can also be matched to the colour of your teeth, so it blends in seamlessly. Additionally, porcelain is a strong and durable material that can last for many years with proper care. Furthermore, porcelain is a good choice for people with allergies to metal materials.
Stainless Steel Crowns
Stainless steel crowns are often used on children's teeth because they are solid, durable, and unlikely to chip or break. Stainless steel is also an inexpensive material. However, they are rarely used as a permanent solution in adults. They are typically used as a temporary solution to reduce the risk of bacteria and decay while awaiting a permanent dental crown.
Gold Crowns
Gold crowns are strong and durable, making them a better option than other materials for longevity. Gold is less likely to break or chip, and as gold is hypoallergenic, it may also be a good choice for anyone with sensitivities or allergies. However, gold is not necessarily seen as an excellent aesthetic choice. Although some people like the look of gold teeth, most prefer a dental crown that looks more natural and matches the colour of their teeth.
Porcelain Fused to Metal Crowns (PFM)
A PFM crown comprises two different materials. The base of the crown is metal overlaid with porcelain. This type of dental crown is often used for molars, as it is less likely to chip or break than a crown made entirely of porcelain.
PFM crowns offer the best of two worlds. The metal base makes it strong and less likely to break than a crown made entirely from porcelain. Additionally, the porcelain is colour-matched to your natural tooth colour, making it virtually indistinguishable from your other teeth. PFM dental crowns are also less expensive than all-porcelain crowns.
Titanium Crowns
Titanium is a metal that has been used in medical and dental applications for decades. Renowned for their durability and resistance to decay, titanium crowns are durable and long-lasting. Although they are the strongest, they are among the most expensive tooth crown types compared to alternative options.
Composite Resin Dental Crowns
Composite resin crowns are a plastic material that can be colour matched to your natural teeth, so they blend in seamlessly, making them a good choice for people self-conscious about their smiles. Composite dental crowns are also less expensive than other types of crowns and an option if your budget is limited.
However, the composite resin is not very durable and is one of the weakest crown material options, lasting an average of only five years.
Temporary Crowns
A temporary dental crown is placed over a tooth to protect it while you wait for your permanent crown to be tailor-made. Typically made from acrylic-based metals, they are not designed to be permanent. Care should be taken when eating, as these dental crowns are not as strong as permanent crowns and are only intended as a short-term measure.
Tooth Crown Types: The Takeaway
The different materials that dental crowns are made from present several options. While all porcelain or ceramic crowns may look natural, they aren't necessarily the most durable material. Similarly, composite resin matches natural teeth but wears down quickly. Generally, metal crowns are the strongest and last the longest but do not provide a natural-looking cosmetic result. In terms of longevity, affordability and aesthetics, porcelain-fused-to-metal crowns tick all the boxes and can last many years with good care. 
Do you need a dental crown?
If you need a dental crown, why not schedule an appointment with the friendly, experienced dentists at a No Gaps Dental clinic near you? We now offer digitally designed lifelike same-day CEREC crowns enabling us to design, create, and fit a beautiful ceramic crown in a single appointment. 
Call us on (02) 8007 6727 today.
References
Medical News Today: What to expect from root canal treatment
https://www.medicalnewstoday.com/articles/142780
Sleep Foundation: Bruxism: teeth grinding at night
https://www.sleepfoundation.org/bruxism
Healthline: Hypoallergenic: Is there really such a thing?
https://www.healthline.com/health/allergies/hypoallergenic
Colgate: What is CEREC in Dentistry
https://www.colgate.com/en-us/oral-health/dental-visits/what-is-cerec-in-dentistry#:~:text=CEREC%20(Chairside%20Economical%20Restoration%20of,teeth)%20from%20decay%20or%20injury.