Is your crooked smile getting you down? If so, then you might want to consider ClearCorrect. In Australia, these discreet clear braces are a popular orthodontic choice for many teens and adults who are looking to restore their smile.
ClearCorrect aligners are a great alternative to traditional bracket and wire style braces and instead, utilise a series of removable trays that are designed especially to fit your mouth.
What are the benefits of ClearCorrect in Australia?
The biggest advantage of ClearCorrect is that the aligners are transparent. Since they are virtually invisible, most people won't even notice that you are wearing them. While that may sound appealing, there are also other benefits too. These include:
No more food restrictions – You can eat all of your favourite foods with absolutely no restrictions
Fully removable – ClearCorrect aligners are completely removable which makes it easier for you to brush and floss your teeth, maintaining high standards of oral hygien
More comfortable to wear – ClearCorrect clear braces are more comfortable than their metal counterparts and therefore won't rub or chafe the inside of your mouth
Fewer appointments needed – Since there are no wires to tighten, appointments are kept to a minimum
Easy to maintain – Simply remove your aligners, rinse them under cold water, and brush them with a soft-bristle toothbrush
So now you know the benefits…
What's the procedure for ClearCorrect clear braces?
Firstly, we'll ask you to come along for an initial consultation so that we can evaluate your teeth. Unfortunately, not everyone is suited for ClearCorrect in Australia. If your case is more complex, then traditional braces may be a better option. Alternatively, if you can't commit to wearing your aligners for at least 22 hours a day, then again, they may not be the best choice for you.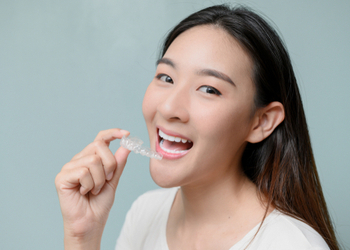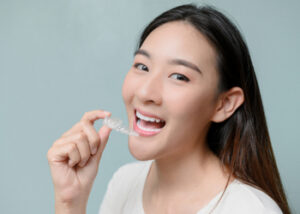 Once we have established that ClearCorrect is a suitable treatment for you, the first thing we need to do is take some impressions of your teeth and gums. The good news is that we use intraoral scanners at our clinics, which eliminates the messy and often unpleasant business of biting down on dental alginate.
This done, we'll also need a few photos and x-rays of your teeth and gums. Finally, we'll send all of these, together with instructions for the tooth movements needed to create your ideal smile direct to the ClearCorrect laboratory. They'll then create a 3D model of your mouth and a set of custom-made aligners.
Once your ClearCorrect aligners are back from the lab, your treatment can begin.
How do clear braces work?
Each aligner applies a certain amount of pressure to selected teeth, moving them a little bit at a time (no more than 0.3 mm). Once initial movement is complete, that aligner is discarded and the next aligner is worn. The process starts over again until eventually after a period of a few months, teeth are eased back into perfect alignment. Every six weeks or so, we'll ask you to come to the clinic so that we can check on your progress and give you your next few sets of aligners.
The treatment takes anywhere between 6-18 months, but you should quickly start to see results within a few weeks.
A word of warning…
It can be tempting to leave off your aligners for longer than the 2 hours per day limit, especially when going out with friends or your latest aligners feel a little tight. However, this can stall the corrective procedure and in just a few hours teeth can start to fall back to their original positions. It can then take several days to re-start the procedure. Wearing your aligners for 22 hours a day really is key to achieving the best results.
Compliance checkpoints allow us to verify where you should be at certain stages of your treatment so we do know whether you have been wearing your ClearCorrect aligners regularly or not.
Will it hurt?
Patients often ask us if ClearCorrect treatment hurts. Truthfully, it's quite common to experience a little sensitivity or tenderness during the first couple of days wearing a new aligner. The good news is, the more you wear your clear braces, the more comfortable they become – a bit like an old pair of shoes.
What can ClearCorrect clear braces treat?
ClearCorrect aligners are an advanced system which uses the latest digital technologies, design, and clinical approach to treat various crowding and spacing issues as well as:
Protruding teeth
Overbite and
Midline misalignment
The bottom line is that straighter teeth don't just look aesthetically more pleasing, they perform better too. Teeth that are misaligned can wear out faster, interfere with bite function, and are more prone to cavities. Why not ask your No Gaps dentist how ClearCorrect aligners can help you!
If you feel it's time you got your teeth straightened, then No Gaps Dental is here to help you. ClearCorrect clear braces are a subtle way to improve your smile and your oral health. Take the first steps to your new smile by calling (02) 8007 6727 or book an appointment online at any of our No Gaps Dental locations, all situated within the Sydney Metro area.