If you're considering a dental implant, this article provides key information about the restoration process. Before moving forward with the procedure, learning about the implant restoration process and what you can expect is a good idea. 
What are dental implants?
Dental implants are common today as they provide a firm foundation for your replacement teeth. They also improve the look of your smile and give you back your self-assurance. Dental implants are created from titanium, which is a durable and compatible metal that will meld with your jawbone. Designed to look just like your regular teeth, dental implants can last you a lifetime if taken care of correctly. We want what's best for our patients, so if you're debating whether dental implants are right for you, come to have a conversation with us.
What are the various types of tooth implants?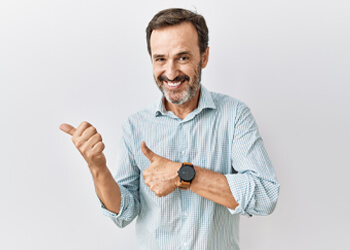 Endosteal implants – The most common type of dental implant is an endosteal implant, which uses a metal anchor that is attached to the jawbone. The artificial tooth is then held in place by a post on the anchor. Endosteal implants are commonly used to replace one or more lost teeth as long as a robust bone in the jaw supports the implant.
Subperiosteal implants – If you have bone loss in your jaw or not enough bone strength to support an endosteal implant, a subperiosteal implant may provide the solution. These implants are made of a metal frame fitted and secured to the jawbone to support the posts connecting each artificial tooth. 
What are the materials used in dental implants?
Most dental implants have posts and anchors made from titanium because the metal is very strong and lightweight. Also, a composite material frequently used in implants is zirconium. This is an excellent alternative for patients who are worried about the effects of metal on their bodies, have an autoimmune disorder, or are allergic to metal. Titanium and zirconium are both used because they offer a unique combination of strength, versatility, and the ability to fuse with the jawbone. 
Artificial teeth are commonly made from porcelain and acrylic resin, which gives them the perfect colour and shape to match your natural teeth. To make sure that your implant looks as natural as possible, your dentist will take pictures and use colour guides for reference. 
What is the process for dental implant restoration?
The dental implant procedure, on average, takes four months to complete. But depending on other oral health complications, you might have (like gum disease) or the health of your jawbone, it could take up to a year. A bone graft is only necessary if your jawbone isn't healthy enough.
Initial consultation and assessment
The consultation will give the dentist an opportunity to assess whether you would be a good candidate for dental implants by examining your mouth, asking about your medical history and what you hope to achieve through treatment.
At your first dental implant consultation, the dentist will check the health of your teeth and gums and take X-rays and a 3D scan of your mouth to establish the best placement for the implant.
Dental implant surgery
Dental implant surgery is a quick procedure that can be performed in your dentist's office while you are under local anaesthesia. A titanium dental implant is inserted into the jawbone under the gum. The process takes 1-2 hours per implant.
A dental implant fuses with the jawbone through osseointegration, which is essential to the success of dental implant restoration. The implant will be secure enough to support an artificial tooth in a few months.
Attaching the replacement tooth
The last step in dental implant restoration is attaching the fake tooth, which your dentist does at their office. This quick and easy process usually lasts no more than an hour, and you'll be given anaesthesia to numb the area.
Am I a candidate for dental implants?
If you are an adult in good health, you meet the first requirement for dental implants. Next, your jaw bones and gums must be healthy enough to support the implant. The best candidates for dental implants typically have healthy gum tissue and don't suffer from periodontal disease.
Losing teeth has harmful consequences, such as the deterioration of your jawbone. Once the bone is lost, it cannot be grown back. It's essential to receive treatment for tooth loss as soon as possible to prevent complications later on. 
Other factors that might affect your candidacy for tooth implants negatively
Medical conditions
Certain medical conditions might present a challenge in getting your dental implants. They include:
Connective-tissue disorder

Haemophilia

Uncontrolled diabetes

Immune deficiencies

Uncontrolled gum disease

Cancer

Alcoholism
If you have any medical conditions, please communicate them to your dentist. You may still be eligible for dental implants depending on the extent and severity of your condition. Disclose your oral health history during your initial dental implant consultation to avoid future problems. 
Age
Because dental implants need a significant amount of well-developed jawbones, young people (18 years old and younger) are not good candidates for dental implants as their bones are still growing.  
Teeth grinding
If you tend to clench your teeth, especially at night, you may not be suitable for dental implants, as excessive pressure on implants could cause long-term damage. 
Smoking
Smokers are highly advised to quit smoking as it can negatively impact healing and increase the chances of implant failure.
Medication
Dental implants are not recommended for those on certain medications that suppress the immune system, such as steroids. Individuals with high-dose radiation treatment to the head or neck area may not be good candidates for dental implants. 
Lack of jawbone
A bone graft procedure can provide the extra structure you need if you don't have sufficient jawbone to support dental implants or if your existing jawbone is too thin or soft. The bone graft will improve the jaw's bony structure, making it easier for titanium implants to osseointegrate with the bone.
Gum disease
If you have gum disease, treatment must be completed before dental implant surgery. Periodontal disease harms dental implants just as it does your regular teeth roots. Moreover, if you have gum disease and receive dental implants, the gum disease might cause implant failure, where the implant falls out and creates inflammation.
What are the advantages of dental implants?
Dental implants have many benefits for patients missing one or more teeth. Many people worry that false teeth may become loose and fall out while talking or chewing, but with implants, you don't have to worry about that because they provide a secure and permanent solution. Implants are attached with a secure and firm method.
They are known to be much more stable than other replacement teeth options because they are fastened within the jaw. With this extra stability comes less risk of bone loss in the affected areas. Dental implants give you the closest thing to natural teeth, and your mouth will be more comfortable. 
How to care for dental implants?
1. Floss regularly 
With dental implants, flossing becomes increasingly important to avoid other oral hygiene issues that could spring from plaque buildup around your implant sites. There are plenty of flosses on the market for those with dental implants, so you shouldn't have an issue keeping your teeth clean.
2. Don't use abrasive products 
If you want your dental implants to stay clean and in good condition, it's best to use sensitive cleaning products. Abrasive products can cause severe pain, so you'll want to avoid them. It's also best to stay away from oral hygiene items with strong flavours like cinnamon or mint, as they tend to produce an unpleasant feeling in your mouth.
3. Use a soft nylon brush 
You may have to change your toothbrush after getting dental implants. This is because nylon toothbrushes contain pliable and gentle bristles for your new implants. Use only toothbrushes with soft bristles to avoid scratching the surface of your implants. Once you have implants, never use metal instruments to clean your mouth. Just brushing and flossing your teeth twice a day will suffice.
4. Avoid hard and sticky foods
Not only can hard and sticky foods damage your implants, but they could also injure the teeth opposite them. Some foods you should avoid after getting dental implants include potato chips, hard candies, dried fruit, caramel, crusty bread, steak, and carrots.
6. Visit your dentist regularly
Dental implants can help enhance your smile, but they are not a complete solution to poor dental hygiene. Depending on the state of your oral health, you should visit your dentist at least two times every year. Dental implants can last your entire lifetime if you take proper care of them and regularly see the dentist.
Looking for dental implant restoration? Get in touch with us now!
Accidents and cavities often lead to tooth loss, but dental implants can give you your smile back. At No Gaps Dental, we offer high-quality and affordable implant restorations. We will cater to your specific dental needs and give you an implant that satisfies those requirements.
Book an appointment with No Gaps Dental or call us on (02) 8007 6727 now.
Note: Any surgical or invasive procedure carries risks. Before proceeding, you should seek a second opinion from an appropriately qualified health practitioner. 
References
Dental Implants
https://www.webmd.com/oral-health/guide/dental-implants
Everything to Know About a Dental Implant Procedure
https://www.healthline.com/health/dental-and-oral-health/dental-implant-procedure