Cosmetic Dentistry
If you have a dental problems or aesthetic concern with your smile, we have a cosmetic dental solution to suit your individual need and budget.
Contact No Gaps Dental to book an appointment with one of our Cosmetic Dentists today – call our Sydney Dental Clinic at (02) 80076727.
Cosmetic dentistry is any type of dentistry that favours aesthetics over function. It is generally designed to improve the patient's smile or bite. Procedures include teeth whitening, veneers and prosthetics.
Besides having a vast background in general dentistry, our dentists have all pursued extensive training and continuing education in various dental fields, including: Teeth whitening, dental bonding, dental veneers, crown & bridge prosthetics. Armed with wide-ranging knowledge and expertise, we provide additional Cosmetic Dental Services that are focussed on enhancing the beauty of your smile.
Cosmetic Dentistry can help to correct common dental problems like crooked, cracked, stained or misshapen teeth. More than that, Cosmetic Dentistry can help to address issues that you might not even be able to pin point or define as a "problem".
As long as you are not completely happy with your smile, our Cosmetic Dentists can advice and help you to improve the appearance of your teeth in relation to other facial features like your gums, lips and cheeks.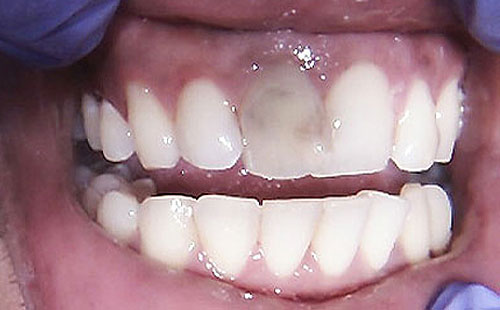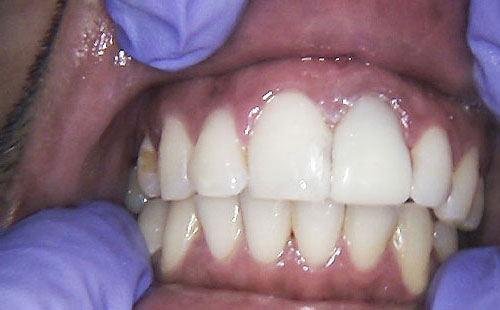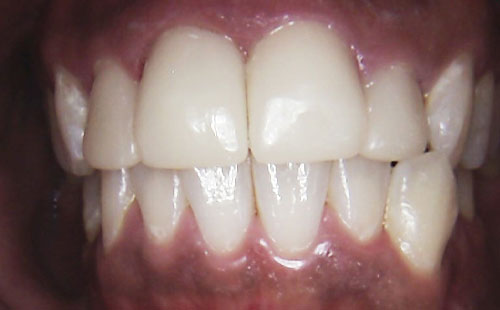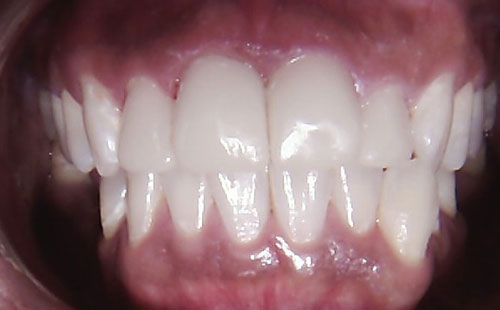 Cosmetic Dentistry: Clinical Skills + Aesthetic Flair
At No Gaps Dental, our Cosmetic Dentists combine a wealth of clinical skills and experience with a flair for smile and facial aesthetics. If you can appreciate the benefits of having a great looking smile – both for your professional and personal life – our team of Cosmetic Dentists can help you to reap the rewards through a variety of treatment options.
What's more, our Cosmetic Dental procedures are designed to be minimally invasive yet deliver dramatic results. For example, if you have crooked, stained and misshapen teeth, we offer porcelain veneers that can conceal your dental flaws with ultra thin, tooth-coloured laminates to completely transform your smile into an attractive yet natural-looking one! No surgery or time-consuming procedures are required – just a couple of visits to the dentist and you literally get a smile makeover!
If your teeth have been stained by years of smoking and drinking dark coloured beverages, our Teeth Whitening treatment can lighten the shade of your teeth by up to 8 shades in as little as one hour!
Utilising advanced dental techniques and modern materials, No Gap Dental offers a variety of treatment options to help you achieve the smile that you've always wanted.
Here are some great treatment options available at No Gaps Dental:
Teeth Whitening
White teeth are synonymous with a healthy smile, however some everyday habits – including smoking, drinking coffee or tea and even some food additives – can discolour the surface of our teeth.
We offer take home teeth whitening kits, as well as in-chair whitening at selected clinics. Our take home kits involve placing the whitening gel in your custom made trays and wearing them for the prescribed amount of time. Results are typically seen within two weeks. Our whitening products have varying concentrations of peroxide, so it's best to consult with your provider to see which is most suitable for you.
Veneers
Veneers are a type of cosmetic procedure involving the application of a tooth-coloured material to the front of a tooth. Veneers are easier and quicker than a crown, however not as permanent. Veneers are useful for correcting gaps between teeth, discoloured teeth or even misaligned teeth.
Prosthetics
Aside from implants, there are different types of prosthetics, which include dentures and crowns. Dentures provide a removable alternative to false teeth, whereas crowns are permanently fused to the root. Crowns are typically placed on, but not limited to, a tooth that has had root canal therapy, where the tooth structure is weakened.
Porcelain Crown
Veneer
Crown
Gold Crown
Porcelain-metal crown
Crown Material Comparison
Dental bridge
Home Teeth Whitening
In Office Teeth Whitening
Implant for Denture
Implant for Crown & Bridge
Denture
Temporary partial denture
Partial denture
Denture home care
Immediate denture