Did you know that there are several types of dental implants? But what you need will depend on how many teeth you have missing and the health of your jawbone. Although a consultation with an implant dentist will advise you on the specifics of various dental implants, you might want to know if you're a suitable candidate. Let's read on to find out more.
Firstly, what are dental implants?
Dental implants are three-part prosthetics that include a metal post (the implant), an abutment (connector), and an artificial tooth (crown). Typically made from titanium – a biocompatible metal known to integrate with bone –  the metal post is surgically inserted into the jawbone. Over time, the implant and jawbone fuse in a process known as osseointegration, providing a secure platform to attach the artificial tooth. The dental implant procedure is complete once the artificial tooth is connected to the implant via the abutment.
Types of Dental Implants
Initially, dental implants were designed to replace a tooth on a 'like for like' basis. But because of the advances in science and technology, it is now possible to replace multiple teeth with individual implants.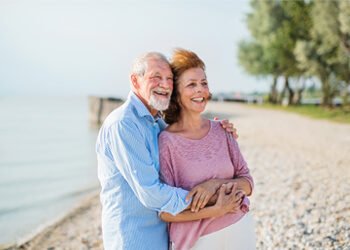 As a result, implant-supported prostheses are more cost-effective than treating each tooth with a single implant replacement.
So, depending on your needs, you can still have one tooth replaced with a single dental implant or adjacent teeth replaced with a single implant-supported by a dental bridge. Alternatively, all the teeth in the upper or lower arch can be replaced by 4-6 strategically placed implants and an implant-supported denture.
Here's a closer look at those options:
Single Dental Implants 
If you have a single missing tooth or several tooth gaps spaced apart, your dentist will probably recommend a single implant. This is the most common of the dental implant procedures whereby one implant replaces one tooth. 
Implant-supported bridges
When experiencing several adjacent missing teeth, your dentist may recommend an implant-supported bridge. 
This is a fixed solution for a row of missing teeth whereby a dental implant is placed at the beginning and end of a row and every two spaces between. Thus, two dental implants are used to replace three adjacent teeth, and four dental implants are used to replace five teeth.
Implant-supported dentures
When an individual has lost (or is about to lose) all their teeth in the upper or lower arch, a fully-removable, implant-supported denture may be the best solution. Unlike conventional dentures that rely on the support of dental adhesive or suction to hold them in place, a removable denture is attached to dental implants. This prevents the denture from moving or slipping and can be snapped in and out for cleaning. As few as two implants may be required for a partial denture in the lower jaw, but this may be extended to six in the upper jaw, depending upon your oral condition.
All-on-4®s
The All-on-4 is also a type of implant-supported denture, so called because all prosthetic teeth are supported on just four or six dental implants. However, rather than be removed for cleaning purposes, it's permanently attached to the implants and can only be removed by your dentist.  
All-on-4 restorations are ideal for those individuals whose jaw bone is incapable of withstanding implants needed for removable 'snap-on' dentures.
So now we know about the types of dental implants, it's worth discussing suitability. 
Who is Not Suitable for Dental Implants?
Apart from the All-on-4 procedure, where patients with bone loss may be suitable without having to have a bone graft, most patients need to meet the minimum requirements for all other types of dental implants. Before being considered for a dental implant, you will require a medical assessment and examination of your jaws and mouth.
Medical Conditions
Problems that may present a problem include long-term medical conditions, such as auto-immune disease, blood-clotting disorders or diabetes. If they are well-controlled, you may still be able to have an implant, but this is decided strictly on a case-by-case basis.
Bone Loss
One of the most typical issues for patients wanting implants is bone loss in the jawbone. Bone loss typically occurs due to periodontal (gum) disease. The disease attacks the soft tissues and bones that keep the teeth in place. Once the disease has destroyed them, the teeth have nothing to hold them and will eventually fall out.
Unfortunately, patients in this position typically have insufficient bone mass for a conventional dental implant right off the bat. The procedure can still be performed, but a bone graft (common in dentistry) is usually carried out first to augment the jawbone and make it viable to receive an implant.
Smokers
Smokers are also not good candidates for implants because smoking impedes blood flow, which is required to provide nutrients,  fight infection around surgical sites and generate bone mass. This is backed by research indicating that implant failure rate in smokers is considerably higher than in non-smokers?
The Takeaway
Tooth implants don't just replace a tooth on a like-for-like basis. Instead, there are now several types of dental implants that can be used to replace multiple teeth with a combination of implant-supported bridges and fixed or removable (snap-on) dentures.  
Here at No Gaps Dental, we're committed to finding you the best solution to restore your smile. To help patients avoid harm, we use hand sanitiser and disinfectants to keep surfaces clean. We always use hand sanitiser after every patient. We also ask patients to clean their hands with hand sanitiser before touching their faces and mouth to prevent infection after dental surgery. 
Contact us on (02) 8007 6727 today for an appointment.
Note: Any surgical or invasive procedure carries risks. Before proceeding, you should seek a second opinion from an appropriately qualified health practitioner.
References
Nobel Biocare: All-on-4® Treatment Concept
https://www.nobelbiocare.com/en-au/all-on-4-treatment-concept
Healthline: What You Need to Know About a Dental Bone Graft
https://www.healthline.com/health/dental-bone-graft
Colgate: Bone Resorption
https://www.colgate.com/en-us/oral-health/mouth-and-teeth-anatomy/bone-resorption-why-it-happens-and-what-to-do-next
NCBI –  The Effects of Cigarette Smoking On The Outcome Of Dental Implants
https://www.ncbi.nlm.nih.gov/pmc/articles/PMC4157230/#:~:text=Relationship%20between%20smoking%20habits%20and%20survivability%20of%20dental%20implants%20(Table,3.5%25)%2C%20p%20%3C%200.001